30-33 High Street, Canterbury, Kent CT1 2RX
Telephone: 01227 766 266
Website: Click Here
Cost for a Sunday lunch: 2 Course (Mothers Day special occasion) – £32.50 (normal costs, approximately £10-£15 per main); Child's Roast Chicken – £6.00
Canterbury always has a special place in my heart, being the place Claire and I went to university. We try and visit often, and so I was aware of Abode. With Mother's Day fast approaching, I decided to book for a special Sunday lunch. Booking was easy, I gave them a call, they took a deposit (as it was an 'event' day) and then we were all set.
Canterbury can be a bit of a pin for parking, but we found a space in a pay and display. Abode hotel is situated on the high street. We were met at the door and shown to our table (past the champagne bar).
The restaurant had high ceilings, cream painted walls, wooden floor, large mirrors and paintings, along with a service front desk. The tables were laid out, with linen napkins.
Drinks
As it was a special occasion, Claire ordered a glass of champagne (we were quite promptly told they do not have processco :-)). I ordered a small glass of red, and we had some table water.
Starters
We decided to forgo starters and go straight to the Sunday lunch. We had some delicious bread to nibble on whilst waiting (and came with butter!)
Sunday lunch
We ordered the child's roast chicken for JW, a beef cooked medium for Claire, and a medium rare for me.
Lunch came out fairly quickly – the waiter explained the dish as they served – thinly sliced beef, lots of mini vegetables such as broccoli, carrots and parsnips. Also, there was a puree of watercress, some greens, a muffin Yorkshire pudding and jus. The (mountain of) perfectly cooked roast potatoes were in a side dish – we actually had to leave some due to the quantity!  The beef was cooked wonderfully, the Yorkshire excellent and superb roast potatoes.
JW had a sliced chicken, along with a couple of roast potatoes and broccoli.
It ranks as the best presented Sunday lunch we've had – and it tasted absolutely delicious.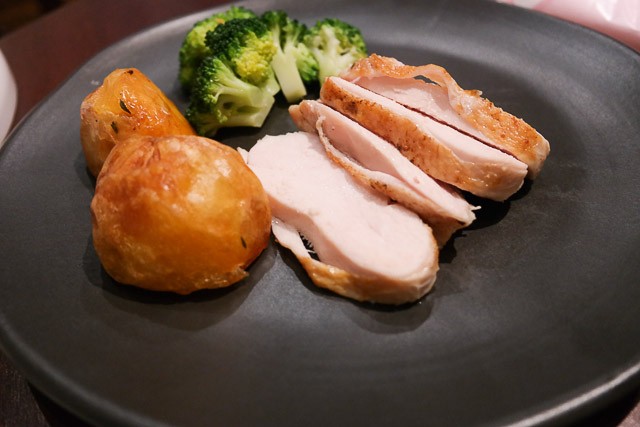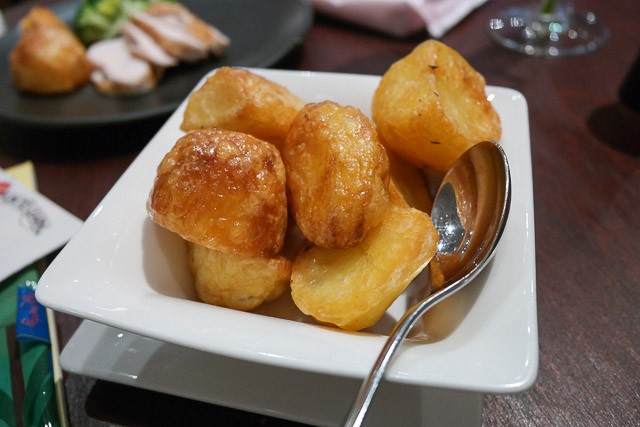 Dessert
For pudding, I ordered the chocolate tart with praline ice cream and white chocolate cream, Claire asked for the passion fruit mousse (which came with coconut sorbet). We ordered JW an exotic fruit salad and sorbet.
Again, beautifully presented – the chocolate tart was wonderful, I thoroughly enjoyed the ice cream. Claire loved the mousse, said it tasted very fresh, and enjoyed the sorbet. JW tucked in, his fruit salad even had pomegranate!
We ordered some coffee to have with our dessert – and some petit fours were brought out too!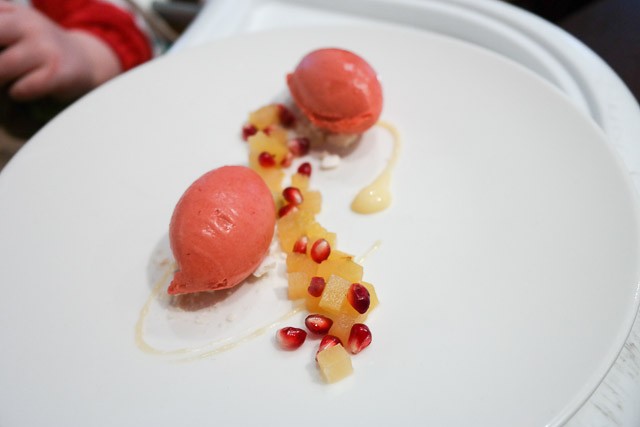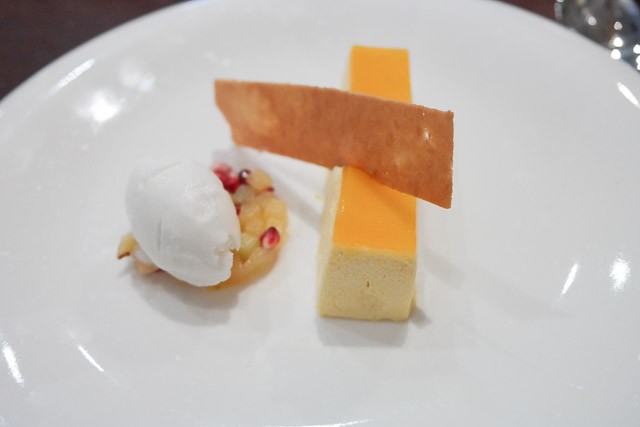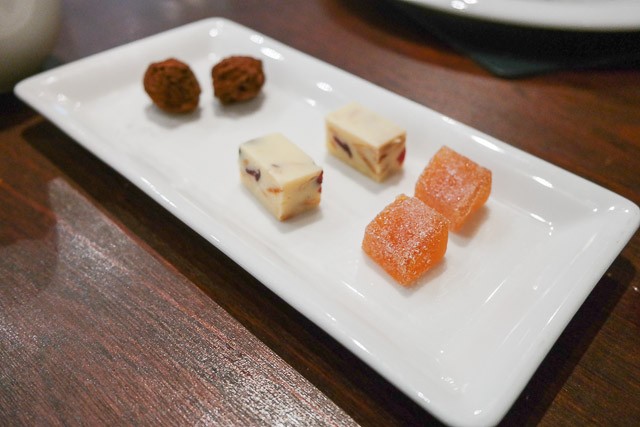 Children's facilities
I was a bit worried about bringing JW to a restaurant such as the Abode, but I needn't have worried. The staff were very friendly and welcoming, the high chair was clean and the food certainly suited his tastes.  The presentation even for the child's dinner was great, and to be honest it was cheaper than quite a few restaurants of poorer quality.  We did need to use the baby changing facilities – very clean and good repair.  A good place to take a well behaved child for Sunday lunch.
Conclusion
The Abode Canterbury ranks as one of the very best Sunday lunches we have reviewed.  The service was impeccable – we felt the staff really cared about our experience.  The Sunday lunch was delicious (I've used that word a couple of times now), and wonderfully presented.  The roast potatoes were amazing, along with the beef and Yorkshire pudding. The dessert were equally good, with excellent presentation, and superb flavours.  The only complaint I had was that they didn't take tip on card – I had to pop out to get some cash (as they really deserved it!).
Overall – Abode Canterbury knocked the Sunday lunch out for 6; Top Rated and definitely suitable for celebratory events!
Rating:
Share the love of a Sunday lunch!