Watts Lane, Chislehurst, Kent, BR7 5PJ
Telephone: 020 8467 3070
Website: Click Here
Cost for a Sunday lunch: Roast Turkey – £8.99;  "Sunday Best" Lamb Shoulder – £13.99; Children's Roast – £4.99
Cost for Desserts: Lemon Cheesecake – £5.29; Chocolate Orange Torte – £5.79
Cost for Drinks – "Mad Goose" Ale – £3.49; Soda Water – FREE!
We had been to the Tigers Head in Chislehurst, Bromley a number of times for evening food.  In fact, we visited one Sunday about 2 years ago, the experience was a bit of a let down with the food too cheap in quality. They had a new menu out though, so as we were looking for somewhere to eat with Claire's mum and husband (Yve and Bob), it seemed a good time to give them another go.
Reservations
Reserving a table is very necessary at The Tigers Head on Sunday, especially if you have children – it's a popular pub and can get extremely busy. I phoned a few days before and was fortunate to be able to get a window table for 12:30.
Venue
We were met at the door and shown to our table.  I remembered that it had been closed for refurbishment.  With freshly decorated walls, stone tiled floors and light coloured exposed wooden beams, it gave the impression of being a country inn.
Drinks
Being a pub, they had a good selection of drinks, including lager, ale, wine and soft drinks.  I ordered an intriguing ale called Mad Goose, Claire asked for a pint of soda water.
Sunday lunch
They had two 'levels' of lunch, the standard and 'Sunday Best'. JW (our 15 month old baby) had a children's roast turkey. Yve and Bob both ordered the turkey too. Claire and I copied each other and ordered the Sunday's Best roast Lamb. 2 portions of cauliflower cheese was also requested (at £1.49 each).
Lunch came out very quickly. Our Sunday Best lamb on the bone was served with pigs in blankets, stuffing, carrots, broccoli, cauliflower and a huge Yorkshire pudding, as well as 3 roast potatoes.
Yve and Bob had 2 large slices of turkey, stuffing, carrots, broccoli, 3 roast potatoes and also a Yorkshire each.
Tucking in, the lamb was a bit too salty for my liking, but it was very tender and fell off the bone. The roast potatoes were nice, and I was pleased the vegetables were cooked perfectly (with a slight bite). Lastly, the cauliflower cheese was delightful – cooked well with a slightly burnt top making extremely crispy cheese. Yum!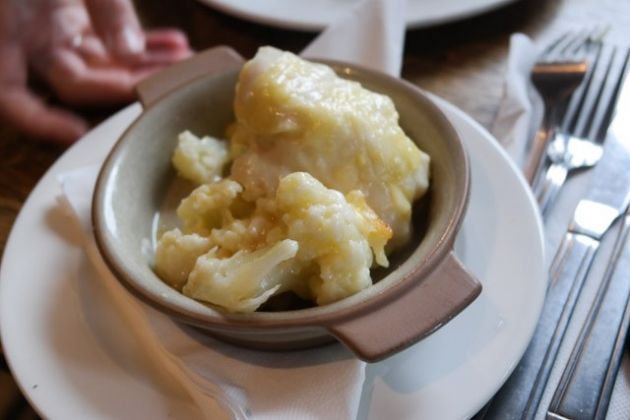 Desserts
The Tigers Head had a good selection of desserts. Bob ordered the baked lemon cheesecake, I asked for the chocolate orange truffle torte. The cheesecake came out quickly and was a very large serving. Bob was very happy :-) My dessert was not what I was expecting, but was extremely enjoyable indeed.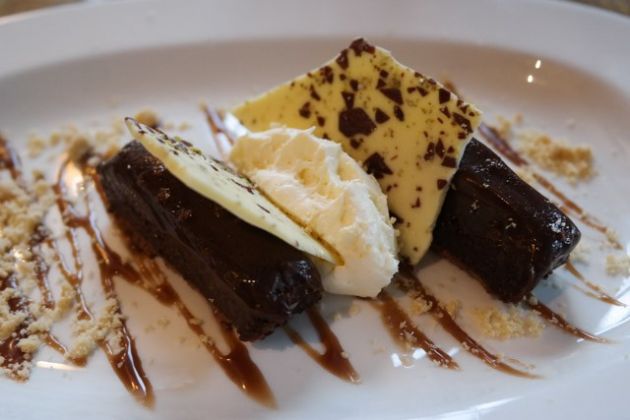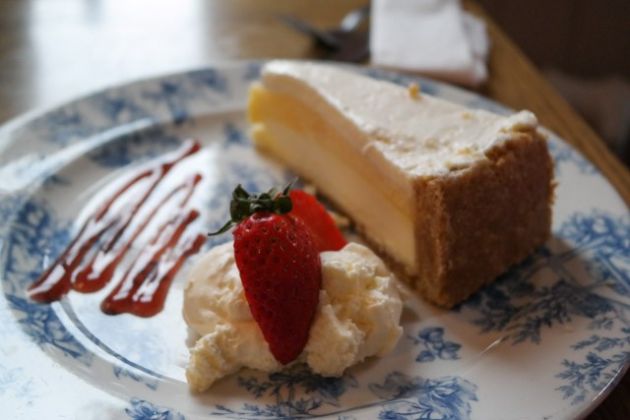 Children's facilities
The Tigers Head welcome children up until 5pm on Sundays. When walking into the pub, the family area was on the left hand side, with the rest of the pub for adult drinkers and diners. The high chair was clean and in good repair. The children's roast was a good size and fairly reasonably priced at £4.99.  Something I had hoped they changed with the refurbishment was the changing facilities – there wasn't any and unfortunately still the case. I spoke with a waiter about this, he mentioned they were not allowed to change the structure of the building. A shame as that made it difficult with JW (had to use the back seat of Bob's new car instead!)
Conclusion
I didn't have high expectations with newly refurbished Tigers Head but in fact it was a good experience. The service was friendly and professional, as always. The decor has been improved, and now feels like a light country inn (especially when looking out the window and across the green). The roast breast of turkey was good value at £8.99. The lamb was so moist and just fell off the bone. A good selection of vegetables, and the cauliflower cheese was a welcome addition (at a small cost). Dessert was equally enjoyable. I wished they had added some form of children's changing facilities as it would have otherwise been perfect for people with young children as well as older ones.
As it is, a recommended experience at The Tigers Head and I look forward to visiting again soon.
John
Rating:
Share the love of a Sunday lunch!