2 High St, Chislehurst BR7 5AN
Website: Click Here
Telephone: 0208 295 2873
Cost for a Sunday lunch – Roast Beef or Roast Turkey – £8.95
We arranged to have lunch at a pub in Greenwich, but unfortunately issues on the A20 meant we couldn't make it. Rather than miss out on an opportunity to review a Sunday lunch, we travelled into Chislehurst to try The Queens Head, an Ember Inns pub. Now, this was definitely going to be different from our other reviews as it was a lot cheaper and more focused on deals rather than high end food – but, I thought it would be good to see what one can get at the £8.95 scale of pub lunches in Bromley.
We parked in the pay and display behind the pub – convenient as Chislehurst is notorious for busy car parks. Entering through the doors, there was a couple of fires burning and seemed freshly decorated. I also noticed how busy it was – with a couple of large groups, we were quite lucky to get a table in the corner.
We needed a high chair for JW, I am pleased to say that it was one of the best suited chairs for a busy establishment (wooden and with clean straps).
Looking over the menu, they had two roasts, beef or turkey. We both decided on the beef, and I ordered a child's main – roast chicken. As it was going to take 15-20mins before being served, I also asked for the bread and oil for starter. It is worth noting that they did have starters with the roast for an extra £2 (such as prawn cocktail). I also grabbed a pint of becks vier for me, and a soda water for Claire (a good selection of lager and ales were available).
The table had condiments and cutlery. Lamps and books were dotted around and, coupled with the buzzy conversations, gave a nice feel to the pub on a Sunday afternoon.
Bread came our quickly, the leaves were a bit wilted, but it was nice enough for £1.95 (JW liked it a lot – first time to try bread and oil).
Our main courses came out soon afterwards. They looks ok – pieces of beef, vegetables in the corner, some roast potatoes and parsnips, a yorkshire pudding, all topped with gravy. There was a lot of beef there, all cooked very well done (still fairly tender and edible though).
The roast potatoes were about 3 out of 5 – could have been crispier, fluffier and larger, but not the worst we have had. The roast parsnips were tasted sweet and were enjoyable. Unfortunately, I cannot say the same for the green beans and leak assortment – fair too overpowering flavour and boiled far longer than they should have been (I actually left quite a bit of the veg). The yorkshire was ok, I'm not sure if it was "freshly made" (if you get may drift).
The gravy was ok though, a nice amount of flavour and I really appreciated having an extra jug each. John William's meal was essentially the same as ours, but with chicken (which looked quite good actually).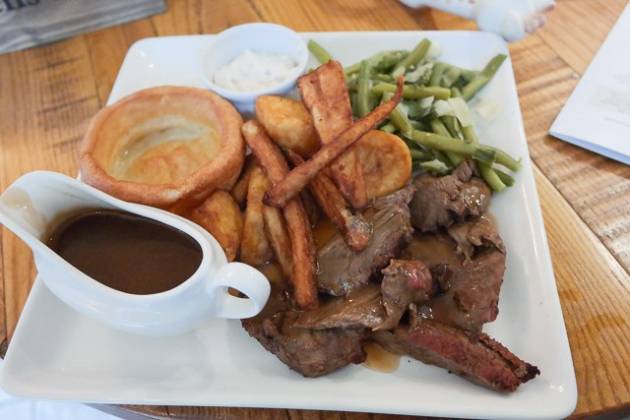 They did have an offer of £2 for dessert when ordering the Sunday lunch, but Claire had seen the Banoffee Sundae earlier (which wasn't on the specials menu – £4.25 I think) – so this was what I ordered, as well as a cappuccino for me to finish the meal.
I was quite disappointed with the coffee, even though they had a fairly impressive coffee type machine, they essentially used it for water whilst using a cappuchino from a packet! It wasn't very nice.
The Banoffee Sundae was served quickly – it looked good, served in a large dessert glass with lots of sauce and slices of banana within the cream on top. Tucking in, I was pleased to find chunks of chocolate brownie, but there was no ice cream! It was essentially whipped cream, brownie, banana and some sauce – I was a bit disappointed as I expect ice cream in a sundae!
So, on to my conclusion. The good bits – obviously the price is one, being £8.95 for a roast. Another would be that it's a pub – so lots of beers, wines and other drinks available. The venue was clean and tidy with a buzzy atmosphere with the large groups of people (as I said earlier, it was very busy). The not so good bits – the roast beef was very well done, so not the place for a rare meat eater. Also, the vegetables were cooked for far too long and the ice cream was non-existent in the sundae.  The staff here were very friendly and helpful, and meant we enjoyed our visit overall.
Not a place to go if you are wanting a high quality Sunday lunch, but for a general family or friend get together, then the atmosphere, staff friendliness and price sways it.  BTW – the burgers looked good, perhaps have one of them instead?
John
Rating:
Share the love of a Sunday lunch!