1 Old Hill, Chislehurst, Kent BR7 5LZ
Telephone: 020 3605 7899
Website: Click Here
When Claire and I were thinking about another Sunday lunch in Bromley, I remembered being handed a leaflet at the station for The Imperial Arms in Chislehurst.  Previously this pub was a bit rough, but it had been taken over recently and refurbished.  As this was local to my Grandparents, it gave us the opportunity to enjoy a Sunday lunch with them too.
I gave Imperial Arms (previously affectionalty in the family known as "The Impy") a quick call and confirmed Sunday lunch for 4 of us around 1pm.
The Imperial Arms is near the top of Old Hill, a steep and notoriously awkward road (so, if you are driving in, plan where you can park before you get here).  The outside of the building was brilliant white, with a nice pub sign hanging.  Walking through the doors, we entered the pub with tables dotted around and the bar area in front of us.  My grandparents were just round the corner in a tucked away table.  Decoration of the pub seemed good, with nice dark browns and wooden table tops.  We were told that the garden will be open soon (had a quick look, a few tables and chairs were dotted around).
Something I enjoy about eating in a pub is being able to have a pint of lager (unlike our Sunday lunch at The Bickley, which is very close-by, as they only sell wine or beer by the bottle) – various choices were available, I went for a pint of Peroni.  The waitress kindly took the food order at our table.  Looking at the menu, we all decided to go for the Roast Beef.  Claire requested to have the beef cooked "well-done". I commented that I would have gone for the pork just because I fancied crackling – the waitress offered to put some on the side…
Lunch was brought out around 10-15 minutes later. The plates looked good, with a couple of slices of beef, roast potatoes, vegetables, a large yorkshire pudding and gravy. We did have to ask for horseradish and mustard, of which tiny pots were brought over.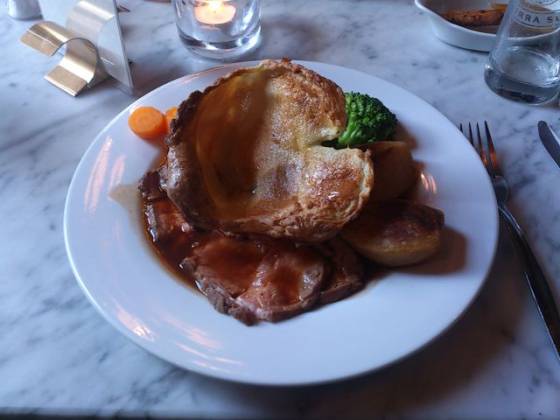 The roast beef was cooked how I like it, medium rare. It tasted of good quality with very little fat. Claire was happy with her's as it was cooked well-done, as she requested. The roast potatoes were crispy but I really wanted more than two (as did everyone else). The vegetables were broccoli, carrots and cauliflower. Fresh tasting and good overall, but once again we needed more than was served. The home-made yorkshire was pretty much perfect, being fresh and crunchy. My extra pork crackling was superb. Lastly, the gravy was flavoursome and plentiful.
So, a wrap-up… The service here was good, the staff extremely welcoming and friendly. Something that was amiss with the service was having to ask for the sauces – this is something that should be automatic either when ordering or when serving. And, the pots were very small too. I felt the Sunday lunch was good quality with plenty of meat. They were also a bit mean with the amount of vegetables served, especially considering the roast was priced at £11.95 for the roast beef – I was definitely left wanting more.  It was generous of them to include the crackling on my plate – thoroughly enjoyable and brought back a point or two ;-)
Overall, Sunday lunch at The Imperial Arms in Chislehurst was good, I am pleased to have a traditional Sunday roast in a pub close-by.
John
Rating:
Share the love of a Sunday lunch!