43 High Street, Chislehurst Kent BR7 5AF
Telephone: 020 8467 2094
Cost of a Sunday lunch: 3 courses for £14.95
Yet another Sunday lunch in Chislehurst, this is becoming a habit! This time, we decided on Foxes in Chislehurst. We have been here once before for a family birthday celebration, so I was interested in what it would be like outside of a special event. So, I gave them a call and booked a table for 13:45.
Claire and I had a quick wander around the Chislehurst Farmers Market just behind Foxes and, after a couple of purchases, decided it was time for lunch.
Outside, Foxes seems unimposing with a sign on the pavement, and is right on the road. Upon entering, we were greeted by three people at the bar, one of which directed us to our table that was on a raised floor. With only four tables in use, the restaurant wasn't very busy, but we were all sat together and it felt strange being so close to each other.
As we were sitting down, we were asked about drinks. 'I would like to see the wine list first, please', which gave us a bit of breathing space – they are eager here!
We were brought the menus; there is a large selection of 'non-Sunday roast' items, then on the back the 3 course Sunday lunch options. There were three starters, approximately four mains and two desserts. After a bit of perusal, Claire settled on the mushroom soup for starters, then Roast Lamb. After checking if I could just have a main course with the Sunday lunch menu, I skipped starters and decided on the Roast Beef. I chose a very reasonably priced bottle of wine at £13.95 (there was one cheaper, at £12.95). After a couple of minutes, I was told this one isn't supplied anymore and so I had to choose a slight more expensive one (which was delicious!).
It was quite cold in the venue itself, an older lady across from us had her coat and scarf on for the whole time she was there! I didn't see any radiators, so perhaps this is one of the reasons why we were all sitting so close, to share body warmth. The floor was a light wood, and the walls were painted cream and red. At the back of the restaurant are some mirrored walls. The front of the restaurant / bar area did seem a bit more fancy, with nice hanging light fittings.
If you have difficulty walking, be warned that the toilets are up quite a steep staircase.
Claire's soup came out after around 5 to 10 minute wait ('would you like pepper?' -waiter holding a huge pepper grinder!).  Thankfully, some bread came out for me to pick at. Claire and I agreed, this was some wonderful bread. Both the white and brown was very crunchy and moreish. Claire also thoroughly enjoyed her soup ('so much better than I thought it would be.').
After a short while, our roasts came out. The actual roast was good, with three slices of beef. There were three roast potatoes and a splash of gravy. The vegetables, which consisted of broccoli, carrots and cauliflower, were nicely presented in a dish. I overheard someone ask for more gravy at one of the other tables, I could see why and did the same. Claire asked for some mint sauce, the waiter brought over the dish and put it on the lamb for Claire (which she felt was a bit off-putting).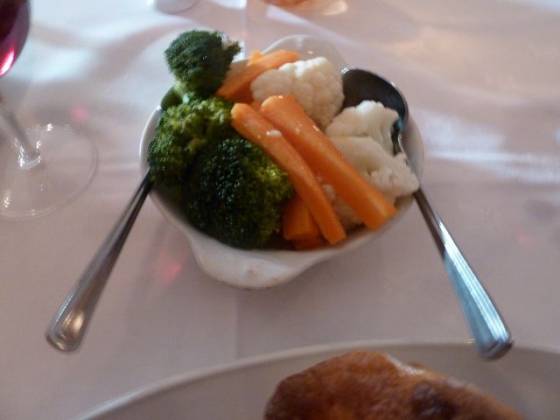 So, on to the food quality. The meat was well seasoned and had a nice flavour. Foxes were generous with three slices as mentioned earlier. I would have preferred less cooking though, it seemed 'well-done' so tougher to eat and cut. The potatoes were very nice, almost fondant-like as they were all the same size but no seasoning that I could taste. The vegetables were ok, in my opinion not much variety – Claire doesn't really eat cauliflower, which left carrots or broccoli – we both would have preferred some more 'greens' such as cabbage, mange touts or beans. The gravy was very nice.
Claire kindly 'let' me have her dessert.  There were only two options – banoffee pie or apple crumble. I decided on the pie.
My dessert came out swiftly, and was presented well on the plate with a dusting of icing sugar. Spooning into the pudding, it was the right consistency for a banoffee pie – as these desserts go, this was good. It was a shame that Claire didn't order the other dessert, I could have 'sampled' that one too! (In the name of Best Sunday Roast, of course).
When the bill came, it was notable that whilst one Sunday lunch three course special was £14.95, the single main was £11.95. So, were they only valuing the starter and main at £3.00?
So, to wrap up… The service here was exceptional, we constantly had someone poring our wine, if we had any request someone was available straight away – this is very rare and I cannot rate the staff highly enough. The bread was excellent, soup was good, main course was ok, dessert quite nice, but the venue was cold. Also, make sure you go for three courses, as the main course on its own isn't very good value. If they could just warm the restaurant up and serve the Roast Beef  'medium', it would have been an even better experience. As it stands though, Foxes Restaurant in Chislehurst score a very respectable 4 plates out of 5.
John
Rating:
Share the love of a Sunday lunch!