57-59 Homesdale Road, Bromley, Kent BR2 9LB
Telephone: 020 8460 5454
Website: Click Here
Cost for a Sunday lunch: 3 courses – £20.95
Peroni by the bottle – £3.85
Diet coke / Apple juice – £2.10
I knew of the Italian restaurant, Don Giovanni, from some friends we met at NCT. I had a look online at some reviews, they seemed to be well regarded for their Sunday lunch, so I decided to book a table with my grandparents.
Reservation
Booking was easy, a quick call the day before and it was all arranged for Claire, me, my grandparents and, of course, John William (our 15 month old baby) to visit for lunch.
Venue
The restaurant was situated on Homesdale Road, a fairly busy street. We actually walked down, but I understand my grandparents had difficulty finding somewhere to park (there were spaces outside, but most were taken). The venue had a veranda outside the front; upon entering we were shown immediately to our table by a friendly waiter. We were positioned next to the bar on a large round table which was laid out with linen napkins. A high chair was already set up for JW. The cream walls were adorned with beautiful and emotive paintings (we believe they were linked to opera). Oh, and a nice marbled floor too. Essentially, a piece of true Italy in Bromley.
Starters
We were served bread and oil whilst waiting for my grandparents. The set menu for Sunday lunch had a good selection, with the waiter also reeling off many other 'specials'. Grandmother (GM) and I ordered the chicken skewers, which we were both pleased with. Claire thought her prawn cocktail, whilst nicely presented, was 'ok' – nothing fancy, with watery sauce instead of something more creamy. Grandad (GD) noted that the piri piri prawns seemed almost cut open, not too hot and enjoyable.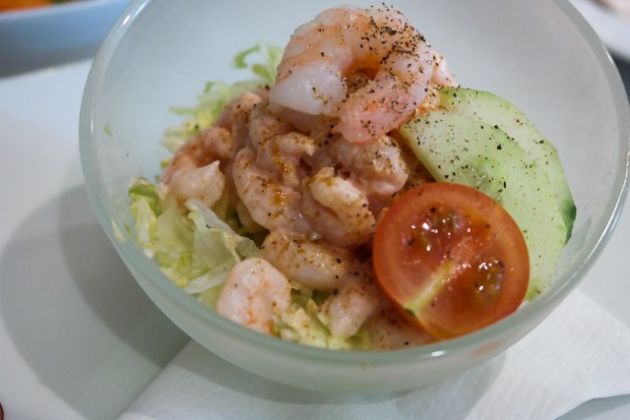 Sunday lunch
Our Sunday lunches came out quite quickly after the starters had been eaten. GM and GD both ordered roast beef, whereas Claire and I copied each other with roast lamb.
The roast beef was made more substantial, with parsnip crisps and a (very flat) Yorkshire pudding. The roast lamb was very nice though and I was pleased with my choice. We each had 2 roast potatoes, which were cooked to perfection. The vegetables consisted of broccoli, cooked to our liking (al dente) and a carrot mash – very pleasant, not too moist like others we have had. Lastly, enjoyable gravy!
Desserts
On to our dessert choices. In a typical Italian style, the desserts sounded wonderful. I ordered the Trio of Brulee, consisting of creme, lemon and chocolate! It was divine. GM ordered the Creme Caramel, she said it was almost like a panna cotta (a good thing) GD liked the Tiramisu he ordered. The star of the desserts was Claire's Limoncello ice cream – mildly alcoholic with the melon liquear, sweet and extremely tangy!
Children's facilities
They were very welcoming and friendly towards JW, it was nice that the high chair was already set up to use and the waiter was helpful. Throughout the meal, the staff were friendly with him, which made us feel quite relaxed. JW's creamy chicken was £6.50, a tad overpriced, especially as it wasn't served with any vegetables. They didn't have baby changing facilities, but allowed me to change JW in the conservatory.
Conclusion
The service at Don Giovanni was excellent being very friendly, attentive and helpful throughout our meal. The venue ambience was good, with interesting paintings on the wall and we felt relaxed throughout the meal. The food quality for the main course was high, with substantial meat for both the beef and the lamb. The Yorkshire pudding which came with the roast beef was very flat and not inviting to look at. Whilst not a great selection of vegetables, they were cooked to our liking. The desserts were excellent, especially the limoncello ice cream. If I had any complaints, it would be that they didn't have baby changing facilities. Also, the food was very much traditional / 1970's style – prawn cocktail and creme caramel. Probably the reason why they seemed so popular with the older generations.
Overall, I'd say it was a nice Sunday lunch at Don Giovanni.
John
Rating:
Share the love of a Sunday lunch!