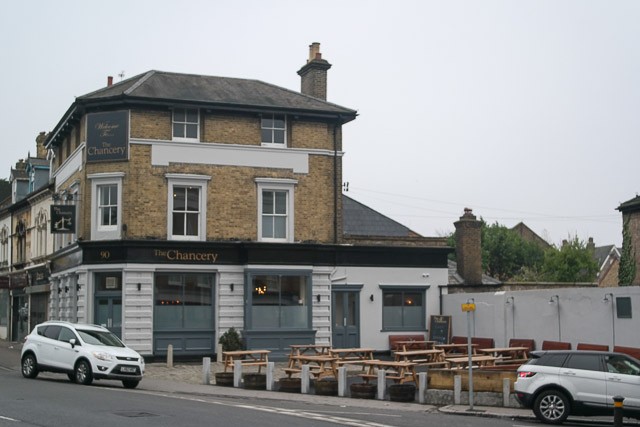 90 Bromley Road, Beckenham, Kent BR3 5NP
Telephone: 020 8650 5744
Website: Click Here
Cost for a Sunday Lunch: Roast Beef – £13.95; Roast Chicken – £12.95; Kids Roast Chicken – £5.95;
I was recommended The Chancery by someone, it used to be The Oakhill, a bit rundown and not a suitable place for us to take our toddler, JW. The person who recommended said they had heard they do an excellent roast and are now a bit of a foodie place. I need no more encouragement than that, and a table was booked for just after the New Year.
Venue
Parking was easy on a Sunday, Lots of single yellow lines so might not be quite so simple during the week. Entering the side entrance, they had really spent effort and money. It was nicely done up with wooden floors, large windows, funky lights and a few large mirrors. The walls were quite sparsely decorated, not sure if that was because of it being new or by design. There was some lively music playing.
We had a rose on our table, always appreciated.
Drinks
Claire's ordered a diet coke, I went for a blackcurrant and soda. We also had some table water brought over.
Starters
We didn't order a starter and instead asked for the mixed bread – soda and bread roll.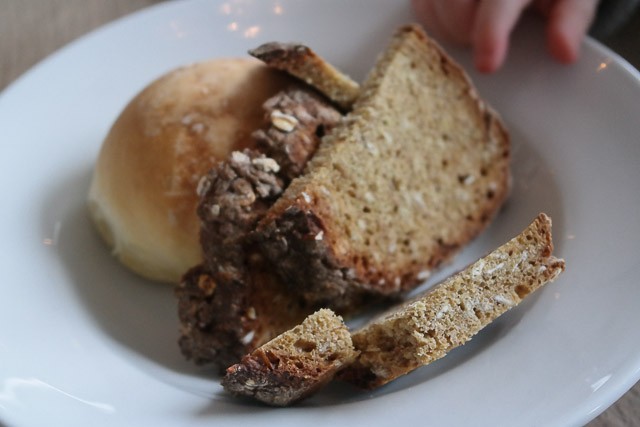 Sunday lunch
We ordered a child's chicken for JW, Claire also ordered chicken. I asked for the roast beef.
The main course came out relatively quickly. JW's chicken was a sliced breast, Claire had a supreme of chicken. I had two large slices of beef, cooked pink /medium.
I also had three and a half small roast potatoes which were very well seasoned and herbed. I am not normally one for 'mashed' vegetables, but the carrot and swede was quite nice. The other vegetables, being broccoli and green beans, were cooked perfectly. Oh, and the Yorkshire pudding tasted good.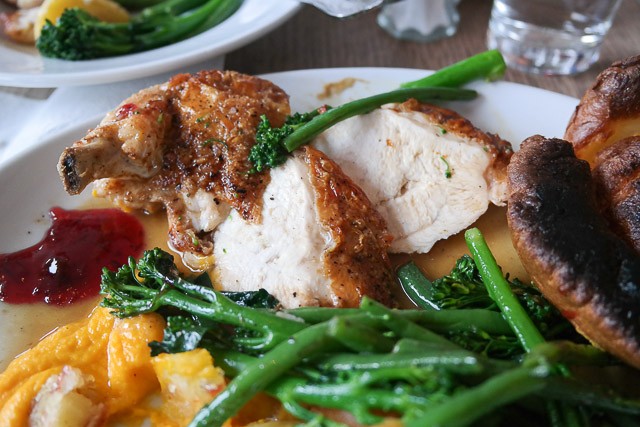 Dessert
I ordered the chocolate brownie and ice cream, along with coffees.
The brownie was very enjoyable, it had walnuts at the bottom, with chocolate sauce and a fruit coulis.
We had an apple with us for JW. Just as he started eating it, he dropped it on the floor. We asked the waitress if they had any apples – she came back with one, her own we believe!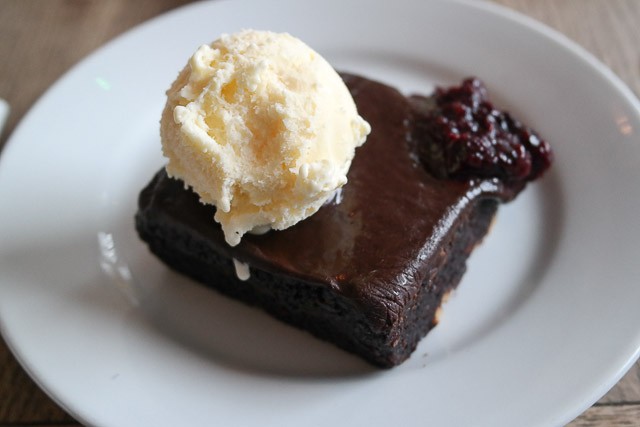 Children facilities
We didn't need to use any baby changing facilities so couldn't say what they were like. The highchair for JW was clean. There were a few couples with children, so other people also feel comfortable taking their family for lunch at The Chancery. They kids menu was ok, it was good that JW could have a roast from the menu (instead of the usually offered chicken nuggets etc).
Conclusion
We enjoyed our time at The Chancery. The service was very good, especially giving JW an apple of their own! The food was nice – not the very highest rating as I would like to have better roast potatoes and the dessert selection was very limited. The venue had been decorated nicely, but it felt quite cold (in temperature as well as atmosphere). If they sort these things out, then they are on to a winner.
As it stands though, a good 4 out of 5 for Sunday lunch at The Chancery.
John
Rating:
Share the love of a Sunday lunch!