Royal Parade, Chislehurst, Bromley, Kent BR7 6NR
Telephone: 020 8467 1727
Website: Click Here
When we first moved to Bromley, we reviewed The Bulls Head Hotel, and it came apparent that it was one of the best Sunday lunches in the area. A few years have now passed and with a recent renovation, we decided to re-review. Booking was easy, I gave them a quick call and booked for a few Sunday's time (Father's Day).
We parked in the busy car park, and walked around to the restaurant. We were met at the door and shown to our table in the tea room. It had been nicely renovated, with a large skylight bringing a lot of light into the room. Styled shabby chic with blue-grey walls along with white ceiling and patterned tiled floor. We were at a funky topped table, otherws were wooden. The tables were laid out with thick paper napkins, wine glasses, candles and flowers. Some very cute lights in this area, made out of teapots / cup and saucers!
Drinks
Processco for Claire, a pint of Greenwich Meantime for me. Also, some water for the table.
Starters
Claire ordered the prawn cocktail, I asked for the chorizo and apple wood cheese croquettes. Absolutely delicious!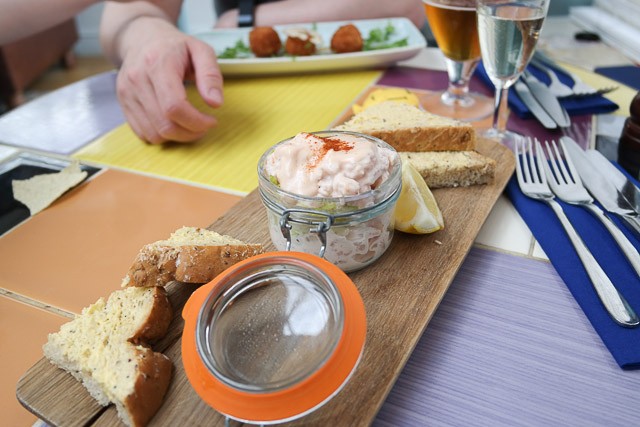 Sunday lunch
For the main event, Claire ordered the roast chicken crown and roast lamb for JW (our dairy / gluten / wheat free toddler). I also the roast lamb with stuffing for me. When taking the order for JW, the waitress noted down no Yorkshire or stuffing (but I don't think she actually wrote down about the dietary requirements – more in a mo). I ordered some extra cauliflower cheese for £4 (just like before).
Food came out quickly and there was lots of it! Loads and loads of roast lamb along with 4 large roast potatoes, stuffing, Yorkshire pudding, mange tout, carrots, green beans, broad beans and mini corn on the cob, topped with gravy. And, of course, the cauliflower cheese. The chicken was huge, with pigs in blankets (sausage wrapped in bacon)!
The food was really good, Claire actually left half because there was so much! The potatoes were good, and the lamb excellent along with wonderful gravy. The vegetables were al dente veg, including the cauliflower cheese which was a bit unusual as it's normally quite soft. Overall, a good Sunday lunch.
One point to mentioned – we noticed the vegetables looked liked they had been dressed in butter – a bit concerning as our request was no dairy for jw.
Now, on to the desserts.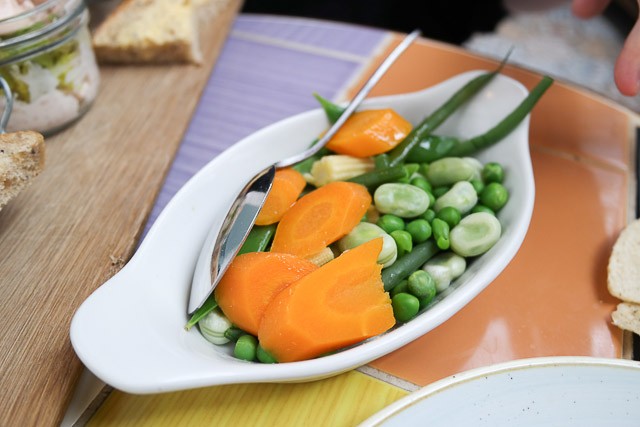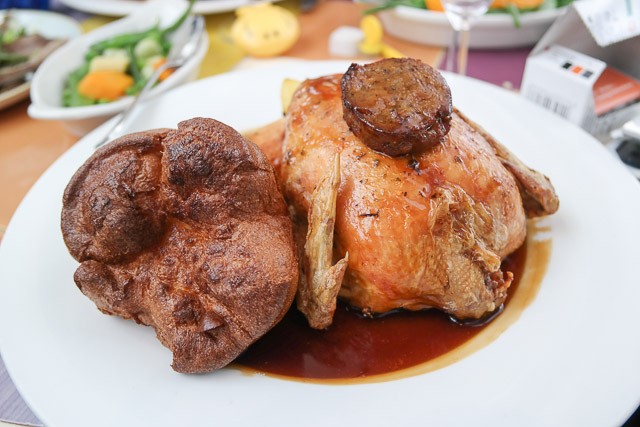 Desserts
I ordered a honeycomb cheesecake, which came out with a small Chrunchie on top. Claire asked for the banoffee pie – this was served with sprinkled dessicated coconut – it was superb! I also ordered a dessert wine with partnered with my sweet dessert perfectly. Yum and hiccup!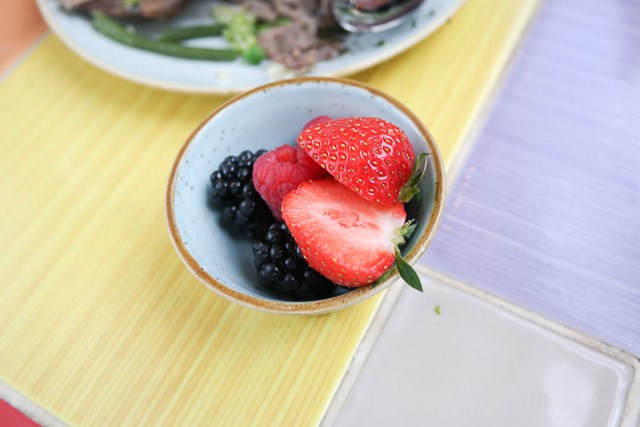 Children's facilities
They had a good highchair for us to use and the waitresses were friendly to JW. There was some good food for him, and also they had changing facilities. With a garden outside, I would say The Bulls Head was well suited to families.
Conclusion
A good lunch at The Bulls Head, although doesn't beat the first time we visited – they had something a bit special, being grated horseradish on the beef! The service was ok this time around, being friendly although a bit slow at points, and the food was enjoyable – and huge portions. A bit concerning with JW's dietary requirements, re the vegetables – we should have followed up at the time. They also tried charging for 2 espressos when one was ordered (they served 2 by accident) – a simple mistake to make and was rectified quickly.
With this in mind, The Bulls Head Hotel has a slight change in score to 4.5 /5. Not exactly perfect but a great time guaranteed.
John
Rating:
Share the love of a Sunday lunch!