Hewitts Road, Chelsfield, Kent BR6 7QL
Telephone: 01959 534457
Website: Click Here
Cost for a Sunday lunch: 2 courses – £14.95, 3 courses – £18.50
The Bo Peep was recommended to me last week. I hadn't heard of them before, but after a bit of investigation online, they seemed exactly what I was looking for (a good Sunday lunch in Bromley at a place that doesn't take itself too seriously – their sheep mascot/logo is called 'Barnsley' :-)). Booking was simple, a quick call to reserve a table for two at 1 pm, and we were all set.
Bo Peep is situated just off the A21, near the M25 junction 4. It's down a country lane, past Hewitts Farm and opposite lots of fields – it'll be great in the Summertime (as long as the 'country air' isn't too overpowering!). There was quite a large car park behind the venue and it was easy to find a space (it was almost full by the time we left, showing how popular it is).
The outside of The Bo Peep was white and appeared as a country pub. Inside was very much the same, with a large open fire, exposed wooden beams and a fairly small bar area. We were greeted almost immediately, but was told she would be just a moment. Then the phone rang, which got priority over us (I was a bit irked at this). After the call, I said we have a booking – 'your table is behind you, first one on the left'. I would have liked to be shown to our table instead of 'directed'. We were given one menu as 'the others are out '. To be honest, not the best of starts to our visit.
The room we were in was quite nice, with a couple of paintings on the wall. There were Chinese lanterns in vases on each table. The temperature was very cold, I had to ask for the radiator to be turned on (I was wearing my coat for half the meal). Also, we were put on a very small table, with an MFI-type black laminated round table-top (just about big enough for 1 person, not for two) and ornate metal stand. It didn't seem big enough for the both of us and plates! Other tables were more impressive, seemingly formed from various types of wood.
We looked over the menu (!), they were offering a 3 course meal for x, or a 2 course for x.  As this was a special occasion (it was a Sunday), we decided to go for starters and mains, with me possibly having a dessert afterwards ;-)
So, for starter I went for the farmhouse pate, then the roast lamb and a dessert to be chosen later.  Claire ordered the mushroom arrabbiata, then a roast lamb too.  I also asked for the heating to be turned up – they sorted this out for us quickly.
A few minutes later, our starters were brought out.  I thoroughly enjoyed the pate, it was a good choice.  Claire's arrabbiata was also good, nice and warm (spicy) for a cold day.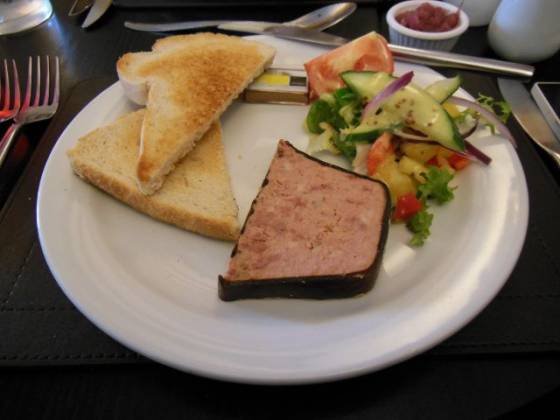 Mains were served a few minutes later; our plates were brought out with the meat, Yorkshire pudding and gravy, vegetables and roast potatoes were served in separate dishes – I was right, it was a very tight squeeze (the large, round plates didn't help!).  The food looked excellent, I was looking forward to tucking in!
There were two thin slices of lamb – well-seasoned with a wonderful texture.  This was almost "melt-in-your-mouth" meat, very easy to cut and tasted wonderful.  I've never had lamb this good…  Anywhere else, I would have complained (to Claire) about the small amount of meat served, but this was just about enough.
The roast potatoes were excellent – crunchy on the outside, fluffy in the middle, and if I remember correctly, also seasoned.  The vegetables were also notably fresh, with cauliflower, swede, peas and broccoli. I think there may have been some leeks as well.  We both enjoyed the Yorkshire pudding, as well as the gravy.
I just had to have a dessert after that main course – I settled on the white chocolate and raspberry cheesecake (what a surprise – one of my (many) favourite desserts).  This was promptly served and looked unusual with the sauce "leaking" out of the cheesecake.  It was good, and something I would have again.
All in all, the food was top-notch at Bo Peep in Cheslfield.  I can forgive some of the service as there was a large party which must have taken up a lot of their time and energy – but, it does give a bad impression right from the start.  I recommend visiting for a quality Sunday lunch, especially the lamb (if you have a different roast, please drop a comment and let everyone know what it was like).
John
Rating:
Share the love of a Sunday lunch!