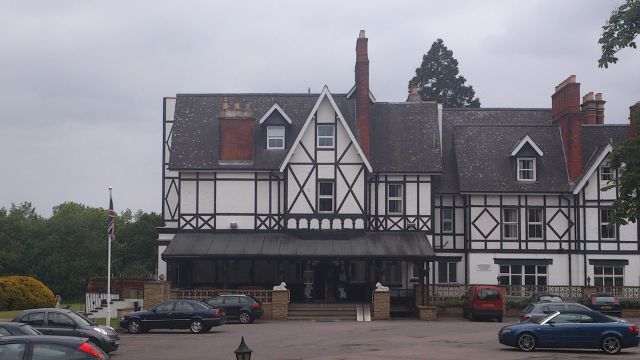 Thornet Wood Road, Bickley, Kent BR1 2LW
Telephone: 020 8467 1461
Website: Click Here
Cost for a Sunday lunch: 3 courses for £17.00
We just had to have a Sunday roast at Bickley Manor Hotel in Bickley, as Claire and I were married here a couple of years ago.  So, one Sunday, we gave it a chance for lunch.
I gave them a call, and we turned up at 2pm for a lateish lunch.  The venue is a grand manor house, set in nice grounds.  Inside, the dining rooms are plush, with red and cream walls, comfy dining chairs, fireplaces, ornate chandeliers and wooden floors.
We were shown to our table, and also handed a menu each.  Whilst the wine is actually very reasonably priced, Claire went for a diet coke, I chose a lager.  The menu is only available as a 3 course, at £17.00 per person.   Claire chose the melon and roast beef (she was asked how she would like it cooked – well done please).  I also chose the melon, but went for the roast lamb.
We were brought out a selection of bread rolls, there were very crunchy and tasted good.  Our melon, served with coulis, came out shortly afterwards.  The coulis had a couple of pieces of banana, whilst it tasted nice, it was a bit strange to have in our starters.
Our main course was served "silver service", so the meat was brought out on platters, with gravy too.  I was quite amused that once the meat was served (and there was plenty of it), the waiter / waitress then proceeded to spend another minute or so spooning the gravy off the platters and on to the meat :-)  Next came the potatoes, we each "only" asked for 2, but I saw other people having 4-5, so there was plenty to go around!  Yorkshire puddings were also brought out.  We were then served a selection of vegetables, with me asking for more broccoli.  As I was having lamb, and Claire had beef, we were then served our relevant sauces.  It felt very special, being looked after like this.
Tucking in, Claire's beef was cooked well-done as requested, my lamb was very nice with quite a few slices.  The potatoes were excellent, crispy and fluffy, the yorkshire tasted fresh.  Our vegetables consisted of broccoli, cauliflower, green beans and carrots, all excellent.  The gravy was nice, but I did need some extra – I requested this, a jug was promptly brought out and poured for me!
There was plenty of food served for even the heartiest of appetites.  But, this wasn't over yet – we also had dessert on the cards!  Claire was too full, so decided against it.  After perusing the menu, I went for the cheesecake.  I was a bit disappointed when it was brought out, it wasn't imaginatively serviced, being just a slice of pudding on the plate.  It tasted ok, but I have had a lot nicer elsewhere.
Included in the £17.00 3 course meal was coffee and mints.  Claire requested decaffeinated, I asked for full caffeine.  We were then promptly brought over two full coffee pots, as well as 6 individual twilight chocolates.  Oh, and the milk was warm and frothy.
So, on to a conclusion.  The service at Bickley Manor Hotel is excellent, such a novelty to be silver-served our lunch.  There were a couple of things I was disappointed in, one being that we had to pay for 3 courses even though Claire didn't want dessert (I was told this on the phone when booking, so it wasn't a surprise, and was our choice to eat there).  The other was that the cheesecake let the meal down a bit – I would have preferred a bit more of an imagination with it.  The menu and service felt like it hasn't changed from the 1980's, with melon and pate for starters, and cheesecake for dessert as well as metal gravy jugs etc.  But, I am amazed that Bickley Manor Hotel can offer a full, 3 course meal with an excellent Sunday roast and coffee for £17.  So, without hesitation, Bickley Manor Hotel in Bickley received a Top Rated award, and I recommend visiting for a special occasion or celebration (I think we are going to give it a go for Christmas Day lunch this year).  BTW, they do very nice weddings too ;-)
John
Rating:
Share the love of a Sunday lunch!