PLEASE NOTE – THE BICKLEY HAS BEEN TAKEN OVER AND RE-REVIEWED HERE – The Bickley Revisited
Chislehurst Road, Chislehurst, Kent, BR7 5NP
Telephone: 020 8468 7613
Website: Click Here
Cost for a Sunday lunch: Roast Chicken for 2 – £28.00, Roast Lamb – £13.50, Pork Belly – £14.00, Roast Beef – £14.50
With our move to Bickley in Kent comes a wealth of new venues to review and areas to explore. I knew of The Bickley and it's various guises over the years as my grandparents live just up the road. In fact, Claire and I had a disappointing Saturday lunch here in the Summer, so whilst I was looking forward to a Sunday lunch, I was't expecting much.
I booked a table on the Sunday morning, for lunch around 1230. We walked to the gastropub from home (as this is, in essence, one of our new locals), but there is some parking outside, as well as the Network Rail car park too. The outside of the pub is foreboding, painted black with grand lettering in the middle. Walking through the doors, you are greeted with a welcoming desk to the right and a bar in front of you. I was very surprised when the lady from the front desk walked us to our table downstairs. On route, the staff all made a point of saying 'hello'. This was a very different experience from before.
The restaurant was very shabby chic, with lots of mirrors on the walls, low-level lighting, wooden floors, white chairs with purple and pink cushions. This was all topped off with a pink gerbera flower in a glass tumbler on each table. A very formal yet quite romantic setting.
The waitress took our order for drinks. I remember seeing a mention about joining 'Bickley Friends', where if one buys two large glasses of wine you can get the rest of the bottle free! So, I ordered two glasses of a Pinot Noir, effectively buying a £19 bottle of wine for £14 – a great deal in my opinion.
We were then asked for our food order. Claire decided on the Pork Belly, I really fancied the Roast Lamb.
The food literally came out in 3 minutes, it was so quick I was actually a bit put out! For me, the optimum time to wait is between 10-20 minutes, enough time to relax with a glass of wine and not feel rushed. Also, if it is too quick, I cannot help but wonder how long the food had been sitting there for?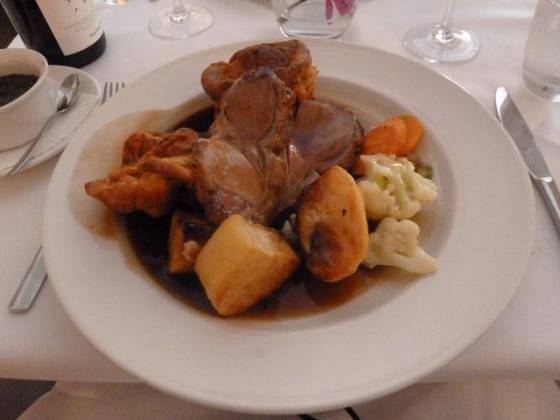 I needn't have worried though, the food tasted fresh. Presentation was ok, although my plate was a bit messy with the gravy.  There were a couple of thick slices of lamb, Claire's Pork Belly looked fantastic – crispy on the top with layers of fat and meat (almost like a slice of an angel cake :-)) We each had two Yorkshire puddings, three roast potatoes and a small selection of veg including carrots and cauliflower (possibly a little bit of shredded cabbage hiding under there too).
Claire and I agreed that the potatoes were good, crispy yet fluffy inside. The Yorkshire puddings were a bit oily (and unfortunately didn't taste fresh). Whilst there were not enough vegetables, they tasted good – fresh and slightly al dente. The gravy was very nice and there was enough, even for my liking!  I noticed whilst we were eating, there was always someone hovering around to make sure all the diners were looked after; a large party come in whilst we were there, the staff really seemed to cope with looking after them as well as the rest of the room. I value this kind of service.
After dinner comes the obligatory dessert (this doesn't improve my waistline).  After a bit of perusal, I settled on the crumble, with ice cream.  Service for this took a bit longer, thankfully.  I do not believe I have ever said this before, but when it came out, I realised it was actually too big!  It came out in a large dish, with a small dollop of ice cream on top.  Don't get me wrong, I ate it all, but a dessert half the size would have been enough (perhaps I should have shared with Claire?  Nope, good!).
Overall, it was a good quality meal and fantastic service.  The venue was interesting, giving a formal but personal feel. A meal is more than the venue and service though… Claire's pork belly was the best she had ever had, my roast lamb was ok. The potatoes were good, but the yorkshires needed improving, as well as the selection of vegetables.   I saw someone with the Roast Chicken for two, which looked absolutely amazing.  The Bickley does also cater for families, I have seen children outside in the garden before, and a couple with their toddler was on a table next to ours.  There are much cheaper places around in Chislehurst, but it would be difficult to beat the service (if you like wine, make sure you sign up to The Friends of Bickley). For these reasons, I am awarding a well deserved 4 plates.
Well done The Bickley!
John
Rating:
Share the love of a Sunday lunch!