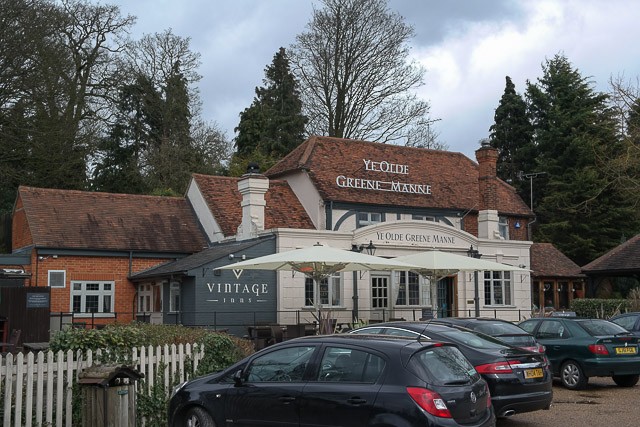 Batchworth Heath, Rickmansworth, Hertfordshire, WD3 1QB
Telephone: 01923 826433
Website: Click Here
Cost for a Sunday lunch: Roast Turkey – £9.75; Shared mixed platter – £22.95 ; Child's Sausage and Chips – £5.00;
We were visiting some friends in North West London, and needed to find a place for Sunday lunch. They had been to Ye Olde Greene Manne in Rickmansworth before, so it seemed a logical place to visit. Easy to book a table, I just gave them a call a week beforehand and booked a table for 6 (explaining we had two small children).
Parking was simple – we got there early and managed to get a spot right outside the front door. The venue is opposite a large green area, so it certainly felt like a pub in the countryside.
We were met at door and shown to our table at back of restaurant – a great cubby hole with tiled floor, wooden walls and large penny stamps pictures on the wall. The table was laid out with a flower along with paper napkins.
Drinks
Being a pub with food, there were lots of drinks on offer. As we had a long way to drive, Claire and I both got soft drinks (diet coke and a pint of blackcurrant and soda)
Starters
We decided not to have starters this time, but instead got some bread and olives to share. It came out quickly, and was very nice!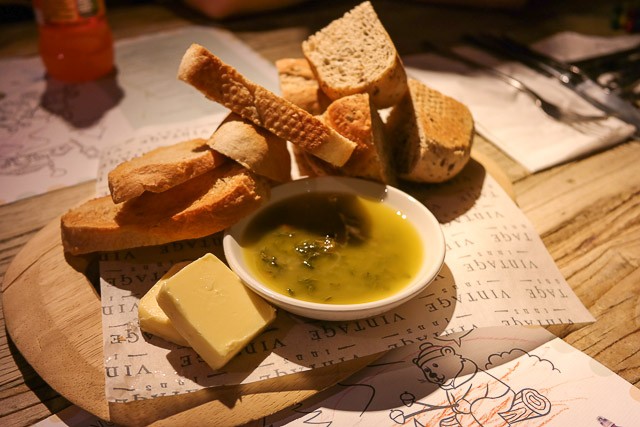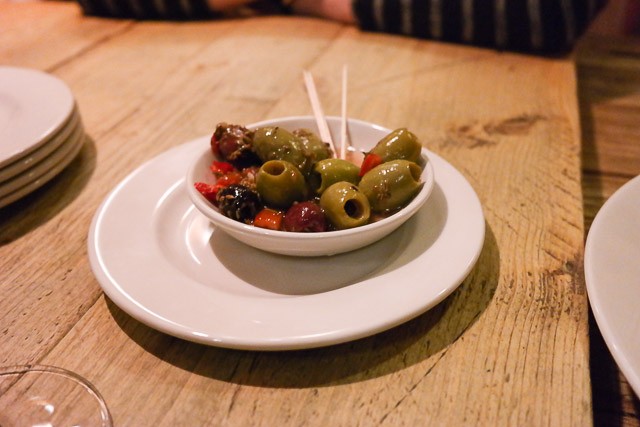 Sunday lunch
Claire ordered the roast turkey. They offered a sharing platter (being a mix of pork, beef and lamb) – Phil and I asked for that! We ordered JW (our toddler) the sausage and mash but swapping the potatoes for chips (as mashed potatoes has milk and he has a dairy allergy).
Lunch came out at an ok speed. Our platter looked good, having the 3 different meats, pigs in blankets (that's mini sausages wrapped in bacon), Yorkshire pudding and stuffing. There was a separate vegetables plate with carrots, peas, parsnips, roast potatoes and cabbage.
Tucking in, the meat were ok – it was a nice selection, but everything was cooked "well-done", including the beef. The potatoes were a disappointment – they were not crispy at all! The vegetables were "ok", a good selection. The gravy was very thick and quite flavoursome.
So, the Sunday lunch was ok, I wonder what the puddings hold?
Dessert
We ordered JW an orange jelly, Claire asked for the sherry trifle and I wanted to give the peanut butter cheesecake a go. When they brought it out, there was definitely an emphasis on quantity – the trifle was monstrously huge! There was so much cream, Claire could only eat a small bit – I gave it a shot and had to leave quite a lot too! The cheesecake serving was also very large, but I managed to eat it.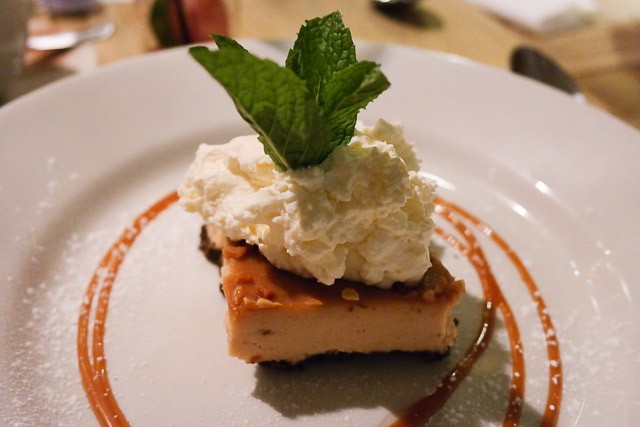 Children's facilities
The high chair was clean and sturdy. I was pleased they offered a full child's food menu – and it was reasonaly priced too. They had baby changing facilities in the disabled toilet – again, all clean. Overall, a good place for families with children to visit.
Conclusion
I really liked the actual venue of Ye Olde Greene Manne. It was set across grass areas so families could play outside before or after lunch (not the day we went though – it was pouring with rain). Inside, it had a very cosy and relaxing feel, our cubby area was perfect for us. The food was a contrast to the venue though – quantity over quality seemed the theme. It was good for families, so if you are more looking for somewhere close to home, then Ye Olde Greene Manne could be a good venue.
John
Rating:
Share the love of a Sunday lunch!