Upton Bishop, Herefordshire HR9 7TT
Telephone: 01989 780470
Website: Click Here
Cost for a Sunday lunch: 2 courses – £15.95, 3 courses – £17.95
With another visit to Ross-on-Wye on the cards,I needed to find a pub or restaurant close-by. I understand that Ross is quite a foodie area, so after much deliberation, I decided to book Sunday lunch at The Moody Cow in Upton Bishop in Herefordshire.
On the outside, the venue looked good with a large outdoor area. Walking through the patio garden area, we entered the pub and were met straight away at the bar area. It appeared that all the tables were reserved, so good job I had pre-booked!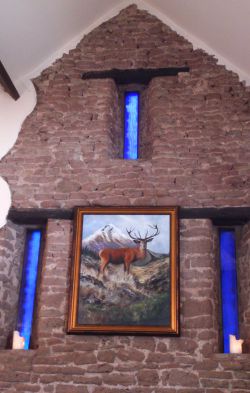 We were immediately shown to our table which was in the restaurant area.  The restaurant had a very high ceiling / roof, with wooden beams.  The wall had thin windows (think arrow slits) pained in blue glass.  In the middle of the wall was a grand stag painting.  The table was nicely laid out, with high quality napkins.  Near the entrance of the restaurant was a wood burning stove of some sort, with two large sofas facing each other – this looked like a nice area to relax with after dinner drinks.
We were handed menus as we sat down and our drinks order was taken.  When looking over the menu, I noticed that there were only options for 2 courses or 3 courses, both Claire and Ian (Claire's Dad) had smaller appetites, so this meant they had to push themselves to eat more.  When the owner came over to ask about our order, he explained they had a large group come in once and order just starters, so they decided to change the menu options.  In my opinion, I would have put the main lunch in, and then an addition £x for a starter and / or a dessert.  I appreciate they will get less money, but it would mean less food being wasted.
The menu choices were between duo pork (pork belly and a pork loin) or roast lamb (for a Sunday roast anyway, there were other options, such as fish).  Claire and Ian decided on the roast lamb.  Previously, Claire has ordered pork belly and it was quite fatty so I was unsure on what was going to come out, but I wanted to give it a go so ordered the pork duo.
Our lunch came out around 15 minutes later (a good time).  The plates had our meat and also some creamy / cheesy leaks and gravy.  Out came roast potatoes, new potatoes and vegetables in separate dishes.  There was a good amount of roasties, we were all able to have 3-4 and still leave some!
Tucking in, the pork belly was AMAZING.  Extremely moist and whilst I know it is a fatty dish, there was none of the white-fat I found off-putting when Claire had it previously.  The crackling was excellent (a bit flew off when I tried cutting into it!), and the apple sauce had chunky apple and onion.  I tried the roast lamb (from Claire's plate) – again, great quality and cooked well.
The buttered new potatoes were nice enough, but the star of the show were the roast potatoes.  They were up there with some of the very best, so crunchy I had trouble getting into them! And fluffy in the middle (Ian also remarked about how wonderful they were).
The vegetables were also good, with the aforementioned creamy leaks as well as carrots, broccoli, green beans and mange tout.  The gravy was nice, but I would have preferred some extra in a jug to moisten the potatoes ;-)
After our Sunday lunches came the desserts.  Claire decided on the "Belgian Chocolate Brownie with Clotted Cream", Ian went for the "Apple, Honey and Cinnamon Creme Brulee" and I chose the "Iced Banana Nougat" (I did fancy a sticky toffee pudding, but felt I had to try something new).
A couple of minutes later, and our desserts came out.  Whilst the others looked good, mine looked superb, with a large slice of iced nougat and caramelised banana.  Tucking in, it was one of my favourite desserts with pieces of nougat and banana (shocking that!).  Claire's brownie was tasty (again, a "small" bite from me").  Ian thoroughly enjoyed the creme brulee.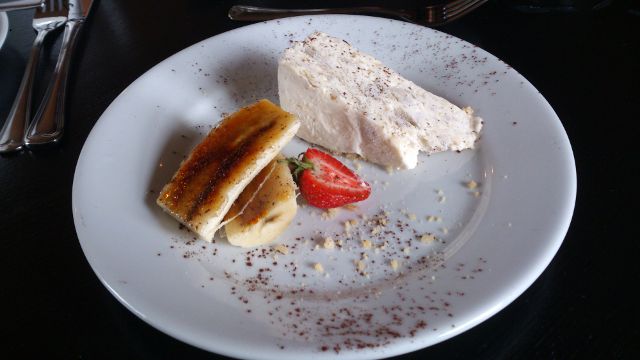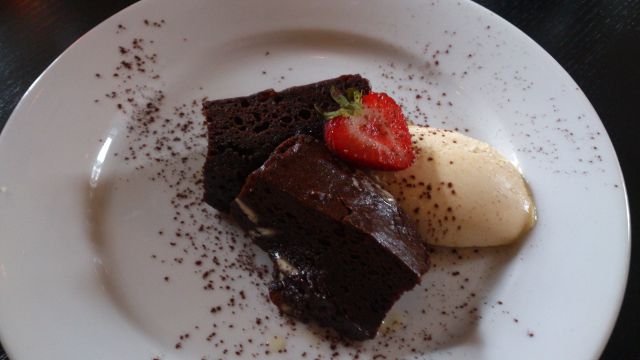 So, a conclusion.  Claire was a bit concerned as the website isn't a glamorous affair, but these fears were abated very quickly.  The venue is plush with a lot of quirky features (such as a doll's house and a piano with a photograph of a pilot (the owner, I believe)).  I absolutely love the restaurant area, with the almost gothic / medieval wall.  The food was excellent and, with an inventive menu, something they should be very proud of.  We all felt very satisfied with the whole experience.
A Top Rated Sunday lunch at The Moody Cow in Upton Bishop.
UPDATE 06/02/13 -> Pricing.menu has changed a bit, diners now do not need to choose 2 courses. Starters are priced from £4.95, Mains are £12.95+ and desserts are £5.50. This review was based on the previous pricing, but the scores still stand – an excellent Sunday lunch at The Moody Cow.
John
Rating:
Share the love of a Sunday lunch!