63 George Street, Hastings TN34 3EE
Telephone: 01424 434960
Website: Click Here
Cost for a Sunday lunch: Roast Beef, Roast Lamb – £10.95; Child's Roast Lamb – £6.00
We drove down to Hastings for a day trip and to try out a Sunday lunch there; I found Lathams Brasserie online beforehand, gave them a call and booked lunch for 13:00.
There are some large car parks on the seafront, so it was easy to park up and explore Hastings.  The venue itself was on George Street, which appeared to be an old high street. Upon entering, we were shown to our table and given our menus.  The table was laid out with paper napkins. Jazz music was playing over speakers in the background giving the bistro-styled small venue a nice, warm atmosphere.
When we initially arrived, Lathams was quiet, with just a few diners – I had a look around (as the toilet was upstairs) – it had a few hidey-hole areas.  During lunch, the venue got very busy indeed – one you must book for, it seems (they were turning people away).
Drinks
We both ordered soft drinks, and were offered tap water for our table (in a brightly coloured bottle).
Starters
We decided to skip starters and go straight for main course.  We ordered some bread to nibble on whilst waiting (cost about £3.00).  A large serving presented on a wooden board and it was enjoyable.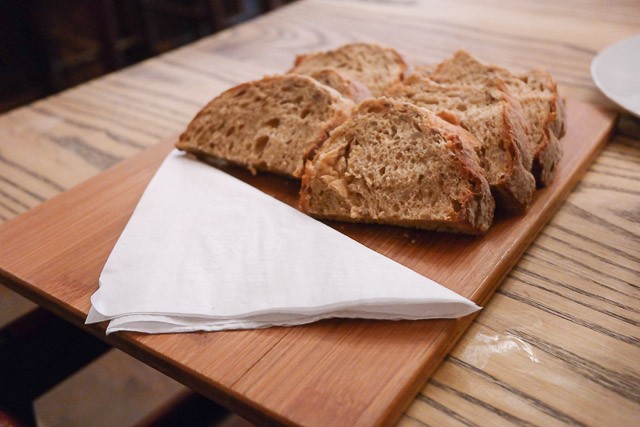 Sunday lunch
We ordered JW (our toddler) a child's roast lamb.  Claire also ordered (an adult portion of) lamb, and I asked for roast beef – cooked rare (- thank you for asking).
Before the lunch came out, we were asked if we wanted any horseradish and mint sauce (yes please!).  They also brought out  steak knife for me (touches I like).
Lunch came out quite quickly – and it looked delicious.  The beautiful beef was cooked to my liking, pink as asked.  A (slight burbt) large Yorkshire pudding had parsnip crisps inside.  Vegetables consisted of green beans, carrots and broccoli (all cooked to perfection).  The roast potatoes were also perfectly cooked – I had a few small ones, I would have preferred them a bit larger (especially as they were so nice).  Lastly, the gravy – thick and flavoursome!
Dessert
As JW is off gluten and dairy (he didn't eat the Yorkshire – don't judge us :-)), we asked if they could prepare a small fruit salad for him instead.  The waitress said she'd try.  I ordered the creme brulee.  The fruit salad they managed to sort out consisted of kiwi fruit, strawberries, grapes, oranges and apples – all things JW would eat and he enjoyed it a lot.  My creme brulee had a good snap – perhaps the vanilla seeds could have been more spread out in it, but I am being very picky (btw, please excuse the extra physalis casing in the photo – JW decided to add it to my plate before I took the photo).
Children's facilities
We didn't need to use any changing facilities so couldn't comment if they have any nor the cleanliness.  The staff were very good with JW, which always helps when dining with a toddler in a restaurant.  The atmosphere meant JW's noises were not echoing around the restaurant.  Lathams seemed to be very much a family place, with lots of parents and children dining (it wasn't overrun with screaming children, so if you don't have any there is a reason to worry – there were two people subtly drinking shots of black sambucca at 1:30 in the afternoon).  I was very pleased they offered a chid's roast dinner – it was almost the same size as the adults!
Conclusion
Overall, an excellent experience at Lathams Brasserie in Hastings.  I felt the staff cared about whether we had a good experience, and it was apparent when we were being asked about sauces before our meals were served etc.  The food quality was high, and I liked the parsnip crisps in the Yorkshire.  My roast beef was cooked to my request, and it was delicious!  The Yorkshire puddings were a bit burnt on top, and I would have liked the potatoes to be larger.  The pricing was reasonable too, being £10.95 for one course, and just £3.00 for dessert.
Overall though, a great choice for Sunday lunch in Hastings – Lathams Brasserie scores a Recommended award!
John
Rating:
Share the love of a Sunday lunch!