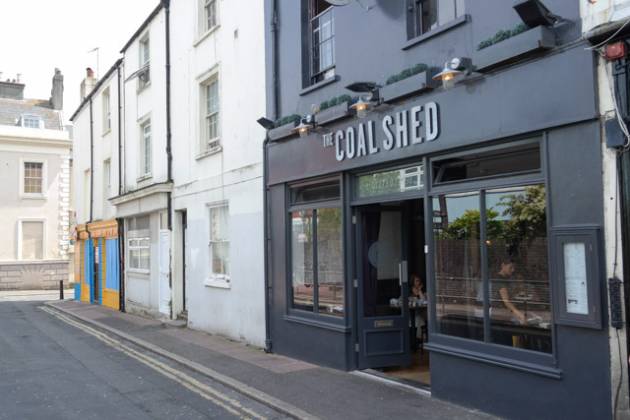 8 Boyce Street, Brighton BN1 1AN
Telephone: 01273 322 998
Website: Click Here
Cost for a Sunday lunch: Jacobs ladder starter – £6.50; Crab starter – £9.00; 2 person's sharing Roast Beef – £30
Cost of drinks: Pint of Estrella (lager) – £4.60; 175Ml white wine – £4.75
My friend suggested trying the Sunday lunch at The Coal Shed in Brighton. Even though we do not venture that far normally, the website definitely made it tempting. With this in mind, a day trip to Brighton was in order!
Reservations
As we were planning to go to Brighton in a month's time, it was simple and easy to book a table through their online reservation system.
Venue
Brighton is notoriously difficult to get a parking space. I was aware of this and actually researched where to park the night before (I found a large and empty-ish secure car park in Trafalgar Street, near the station – £6.00 for four hours). The Coal Shed was off a main road near the beach. Outside, it was quite unimposing, next to a pub and a couple of other restaurants. Upon entering, we were shown to a great table in the front. The table was laid out with linen napkins. With a conservatory type roof at the back, along with the red and white walls, it gave an impression of a smart and professional, but relaxed venue.
Drinks
I ordered a pint of beer, Claire asked for a glass of wine. We were also served water for the table.
Starters
Due to us waiting for our friend, we ordered starters without him.  Claire asked for the crab , I ordered the "Jacobs Ladder" (BBQ short rib).  We were served some bread and oil whilst waiting for the starters to arrive.
The rib in the barbeque sauce (almost a soup), was tender and delicious.  Claire was quite pleased with her crab, with a delicate salad, but she was certainly jealous of my choice!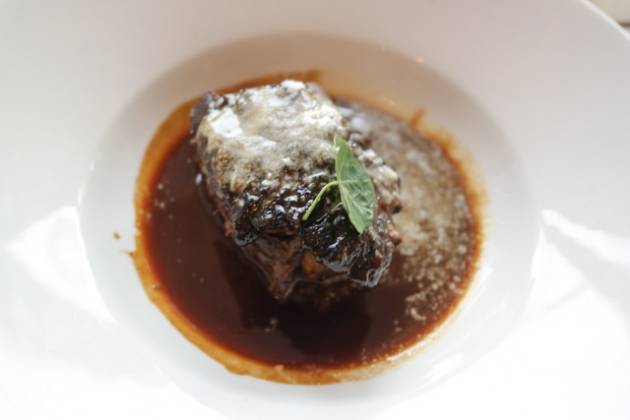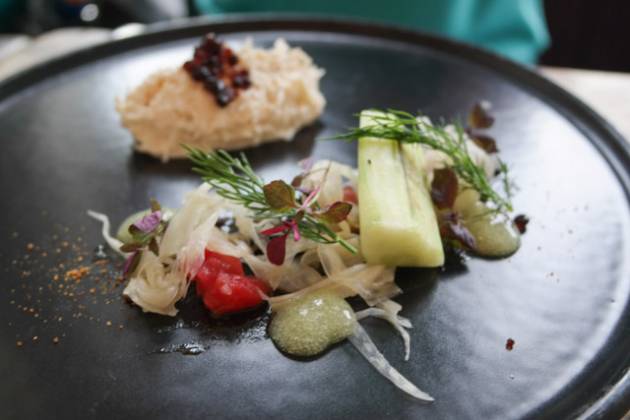 Sunday lunch
So, on to the main event.  Unfortunately our friend wasn't able to find parking – so we had to eat without him.  I enquired about a children's lunch for JW- we had ordered some new potatoes to keep him occupied whilst we ate our starters – they did not have a child's offering.  They did have a 3 person's Sunday lunch for £45, but as we felt this would be too much food for us, I ordered the 2 person Roast Beef lunch with the view to give some to JW (BTW – they do not offer any other Sunday lunch apart from these and one special for lamb).
Our vegetables were brought out first, bowls on a wooden block.  Then a platter was presented and placed in the middle of our table.  I later found out they had served us a 3 person lunch by mistake – so for the purpose of this review I am looking at this as a 3 person lunch.  A Yorkshire pudding each, lots of roast potatoes and in the middle of the plate, large chucks of roast beef!  This was one awesome Sunday lunch!
The beef was, as expected, cooked perfectly – on par with The Laughing Gravy in Southwark.  The large roast potatoes were also perfect, outside crunchy and fluffy in the middle.  The Yorkshire puddings were to my taste and style – light, huge and a good structure inside.
The vegetables were carrots (including purple ones!) and buttered greens.  These complimented the meal well, along with the beautiful jus.
Claire's words – "Well, that's the best Sunday lunch on the website then"!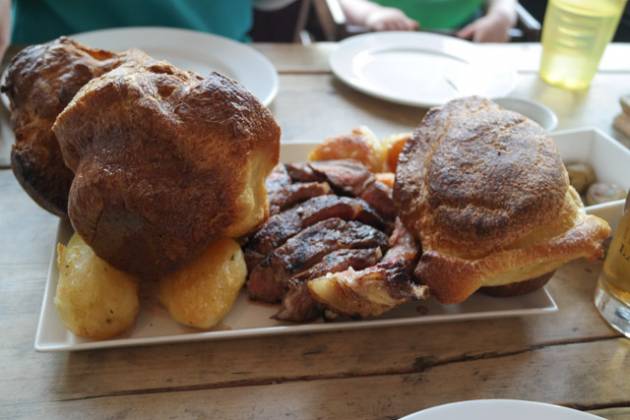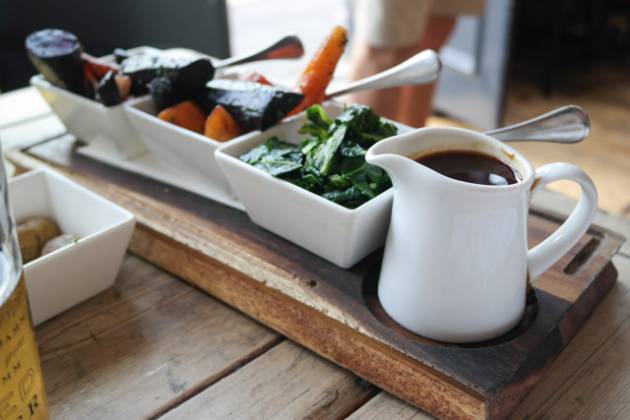 Desserts
Due to time constraints, we weren't able to have a pudding… :-(
Children's facilities
The Coal Shed was a venue suited to families with older children.  They did have a high chair, but not providing a children's menu did put us off slightly.  We needn't have worried too much though, there was so much food for JW to eat with us!  I couldn't comment on the baby changing facilities (or even if they had one) as we didn't need to use any.
Conclusion
Very simply – one of the very best Sunday lunches we have reviewed.  The service was good, attentive and welcoming (even with a baby).  They were patient when we needed to wait for my friend (not) to arrive, and didn't put any pressure on to order.  The starters were good, the roast was amazing.  The beef cooked to perfection, as were the roast potatoes.  I loved the carrots too!  Also, when paying, I noticed they had charged me for the 3 person lunch, the waitress immediately resolved without any fuss (we had some extra lunch – don't worry, we ate all the beef but left the extra Yorkshire and roast potatoes, we're not "that" greedy!).  Children's options would be the only way to improve, but I don't think that's their audience anyway.
So, overall, an excellent Sunday lunch at The Coal Shed in Brighton – definitely Top Rated!
John
Rating:
Share the love of a Sunday lunch!